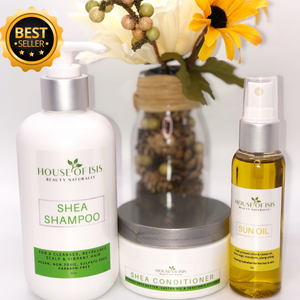 PROMOTES HAIR GROWTH • MOISTURIZES• RESTORES

Benefits:
This all-in-one kit includes our #1 hair growth oil. Our sulfate-free Shea Shampoo restores the scalp's natural pH balance without stripping the hair of its natural oils. Our Shea conditioner hydrates, moisturizes & defines curls. Our sun oil stimulates hair growth when applied daily preventing hair loss/alopecia. Dually-purposed for the hair & skin.
Ingredients:
Shea Shampoo: Castile Soap, cold-pressed olive oil, infused with essential oils: rosemary, peppermint & cedar wood. 

Shea Conditioner: Whipped African shea butter infused with cold-pressed olive oil, castor oil, vegetable glycerin and the essential oil peppermint. 
Sun Oil: A unique blend of cold pressed olive oil, castor oil & essential oils: clary sage, ylang-ylang, mandarin. 
*Our products are completely natural and do not contain preservatives, please keep in temperatures under 75 degrees. 
Directions:
1. Shake Well. Pump shampoo 3-4 times directly into the scalp & hair and massage in until lathered. Rinse & repeat 2-3 times.
2. Part hair into small sections and emulsify conditioner into hair from roots to tips. BEST when used as a leave-in!
3. Pump the Sun Oil directly into the scalp & hair from roots to tips to stimulate growth, increase hair thickness, and seal in moisturize.