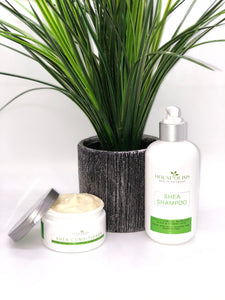 CLEANSES • REPLENISHES • RESTORES
Benefits:

Our Shea Shampoo & Conditioner Kit cleanses and rejuvenates the scalp & hair. The sulfate-free shampoo eliminates shrinkage after washing while the conditioner defines curls and eases the detangling process. This conditioner may also be used as a leave in as it dissolves directly into the hair without any build-up 
Ingredients: 
Shea Shampoo: Castile Soap, cold-pressed olive oil, infused with essential oils: rosemary, peppermint & cedar wood.
Shea Conditioner: Hand-crafted whipped African shea butter infused with cold-pressed olive oil, castor oil, vegetable glycerin and the essential oil peppermint. 
*None of our products contain preservatives, please keep in temperatures under 75 degrees. 
Directions: 
1. Shake well. Pump shampoo 3-4 times directly into the scalp & hair and massage in until lathered. 
2. Rinse & repeat 2-3 times
3. Part hair into small sections and emulsify conditioner into hair from roots to tips. Best when used as a leave-in!